Registry of biomedical companies:

[(] [3] [A] [B] [C] [D] [E] [F] [G] [H] [I] [J] [K] [L] [M] [N] [O] [P] [Q] [R] [S] [T] [U] [V] [W] [X] [Y] [Z] 476 active entries



Via Castelbarco, 17
Milano 20136 Italy
Italy

Phone: +39 0258308378
Fax: +39 0258308595

Description:



Soltec is an Italian company, based in Milan that produces and distributes in Italy and abroad, washing machines and ultrasonic cleaners for specific fields. With over 15 years of experience in ultrasonic cleaning within medical, dental industry, pharmaceutical, laboratory Soltec has notched up numerous successes on the domestic and foreign markets, establishing itself as young and dynamic company able to meet various needs customers. Its know-how and investment in research excellence have produced equipment from higher performance and can deliver results over time.
The company's offerings are divided into a series of ultrasonic cleaners with capacities from 1.9 to over 100 liters SOLTEC engineers are well capable of designing and manufacturing ultrasonic cleaners and accessories tailored to individual needs customer. The SONICA ultrasonic cleaners are based on the principle of cavitation and the results of years of research conducted by technicians Soltec in collaboration with major universities such as the Polytechnic of Milan, who led the research on extraction techniques using ultrasound, and the Department Micrbiologia of Pharmacology and Milan, who made experiments in the medical field in the field of decontamination of surgical instruments. In recent years the company has also gained considerable experience in industry and competitions, such as collaborations with various sailing team during the two recent editions of the America's Cup since 2004 Quality System of SOLTEC Srl is certified according to ISO 9001:2015 and ISO 13485:2016.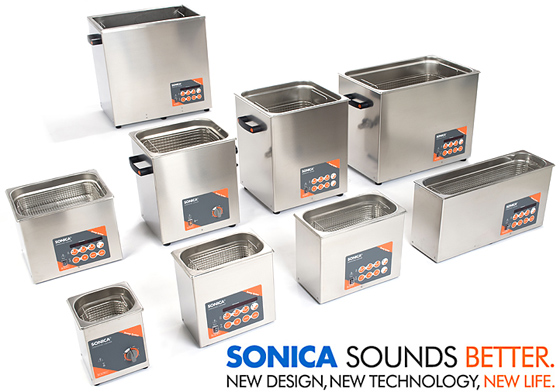 Ultrasonic precision cleaning is a modern, safe, efficient, most economical and fastest way for effectively removing of contaminants and tenacious deposits from objects with complex geometry. The ultrasonic cleaning benefits consist of a deep cleaning of the objects and the elimination of the risk of injury or infection with manual cleaning.
The ultrasonic cleaning mechanism consists of an electronic generator coupled to one or more piezoelectric transducers (according to the model) which are attached to the outside base of the tank in stainless steel containing the cleaning fluid. The electronic ultrasonic generator produces a continuous signal at a frequency about 40 kHz, and pilots the piezoelectric transducers which transform the electrical signal into a mechanical vibration with a frequency of 40,000 oscillations per second in the cleaning fluid in the tank.
These pressure and vacuum oscillations create a huge quantity of micro-bubbles in the cleaning liquid which, by imploding in extremely rapid succession, create enormous impact energies between the detergent liquid and the surface to be cleaned. This is known as "cavitation" and provides an efficient and safe cleaning method in less time.
This high ultrasonic acoustic energy removes dirt, oil, grease, filings, small chips, surface dust, biofilm, organic matter and contamination of various kind from different shaped items like mechanical parts, gears, moulds, surgical instruments, precision instruments.
At present, SOLTEC produces over 20 models with more than 50 different versions. Each component of SONICA ultrasonic cleaner was designed and produced for achieving the best results in the field of precision cleaning.
SONICA® Sweep System Technology
The new SONICA S3 contains the best you can ask from ultrasonic cleaning equipment.
The state-of-the art ultrasonic generator incorporates a special ultrasonic oscillator using Sweep System Technology.
How does the Sweep System Technology work in the ultrasonic cleaning ?
With Sweep System technology, the output frequency of the ultrasonic generator is modulated around a center frequency, so the ultrasonic transducers shift between 39 and 41 kHz.
Sweep System Technology offers the following advantages:
Faster cleaning
Damage free cleaning
Increased distribution of ultrasound energy eliminating the standing waves
Improved cavitation
Facilitate the ultrasonic wave crossing through the mesh wire basket and the complicated objects to be cleaned
For more detailed information please visit our web site:
Please visit also our eshop if you vant to place an order:
Selected Categories:
Last update of this entry: September 27, 2023